Rainbow Chia Parfaits
Everyone knows the golden power of "eating the rainbow". Celebrate spring with these delightful, power-packed parfaits! Our Good Karma Plantmilks are the perfect base for nutrient-rich chia pudding. Add layers of colorful flavor by blending in fresh fruit puree. We've shared some of our favorite fruit blends, but feel free to explore the rainbow of endless possibilities, and enjoy! Recipe by @happyapplevegan.
Servings
6-8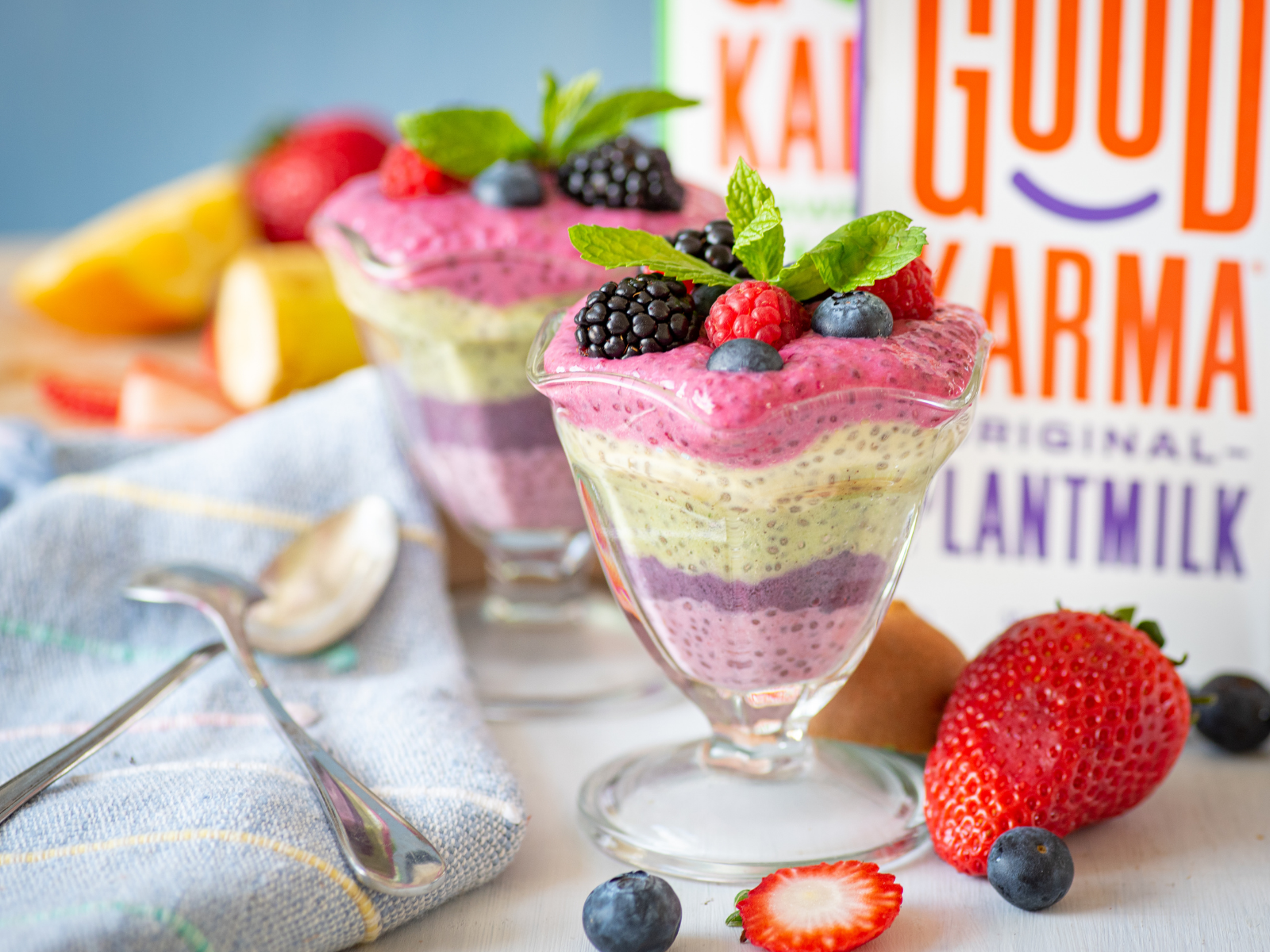 Ingredients
1 Cup Good Karma Unsweetened or Original Plant Milk 

3 Tablespoons chia seeds

Fruit puree (see list below)

Fresh fruit, mint leaves serve, optional




Fruit puree blend (Red)

¾ Cup strawberries, raspberries, or a mix plus 1-2 tablespoons chopped red beetroot 



Fruit puree blend (Orange)

1 small mango about a cup peeled and chopped)  plus a few strawberries or 1 small chunk beetroot (about ½ teaspoon) 



Fruit puree blend (Yellow)

1 Cup chopped mango, pineapple, or a mix




Fruit puree blend (Green)

2 small green kiwis, peeled and chopped, a handful of spinach (approximately ⅓ Cup), ½ a small banana 



Fruit puree blend (Blue)

1 cup of blueberries




Fruit puree blend (Purple)

1 Cup mix of blackberries, raspberries and/or cherries
Directions
For each colored layer, puree fruit and Good Karma plant milk in a blender. Transfer to a container with a lid and add chia seeds, stirring or whisking to evenly distribute. Refrigerate 4 hours or overnight.

To assemble parfaits, layer alternating colors in glasses and top with fresh fruit and/or garnish of choice.
GOOD KARMA RECIPES IN YOUR BOX
Bring GOOD KARMA to your kitchen (and your inbox) with our latest recipes.