Low Carb Zoodles In Creamy Sun Dried Tomato Sauce
Dinner is served! If you're a pastaholic get ready for an upgrade with this Low Carb Zoodle in a Creamy Sun-Dried Tomato Sauce made by Lauren at @chickpea_and_herb. It's LOADED with veggies, easy to make and ready in 30 minutes, and mind-blowingly delicious! Plus, it has a splash of our creamy Unsweetened Flaxmilk + Protein for an added boost of delicious nutrition.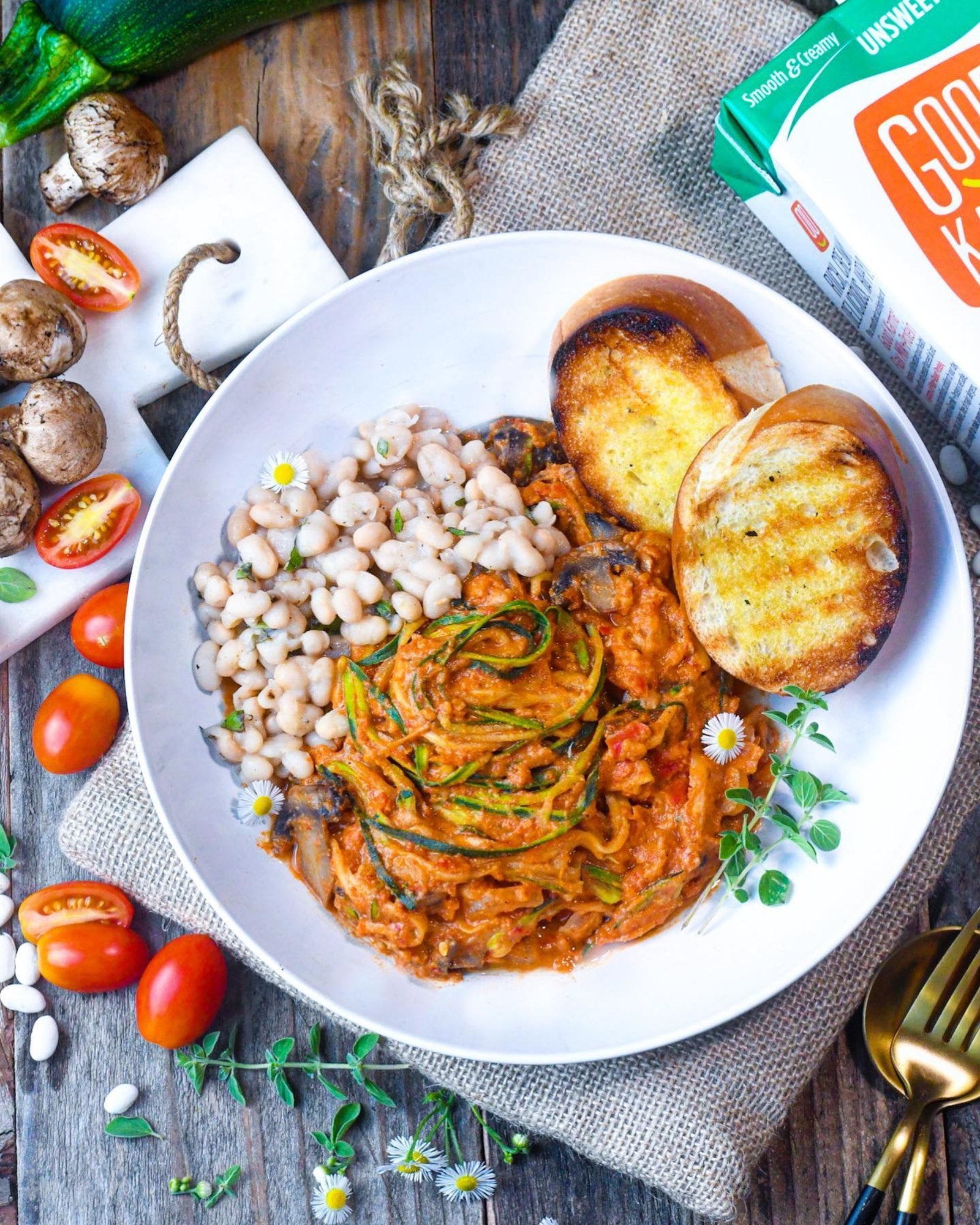 Ingredients
Zoodles

2 tbsp olive oil


1 yellow onion, diced


1 cup mushrooms, sliced


1 cup sun-dried tomatoes


2 teaspoon garlic powder


2 teaspoon onion powder


2 tablespoons nutritional yeast


1 large zucchini, spiralized





Beans

2 cups white beans


1 tbsp olive oil


1 tbsp fresh oregano


Salt and pepper to taste

Directions
Cut zucchini into spirals with spiralizer, peeler, or grater. Set aside.


Cook beans ahead of time. Add the beans + olive oil to a bowl with oregano, salt, pep. Let marinate.


In a pan, add 1 tbsp oil, onions, mushrooms. Let sauté on medium heat while you prep tomatoes.


Pulse sun dried tomatoes in a processor with 1 tbsp oil until chopped finely. Add to pan.


Stir in spices and milk.


Add zucchini and stir, coating with sauce.


Serve with toast

GOOD KARMA RECIPES IN YOUR BOX
Bring GOOD KARMA to your kitchen (and your inbox) with our latest recipes.