Good Karma FAQs
If you are a nutrition-seeking, label-reading, planet-loving person with lots of questions, you'll want to camp out on this page. Below are the most frequently asked questions about Good Karma. We are all about transparency so if you have any other questions, contact us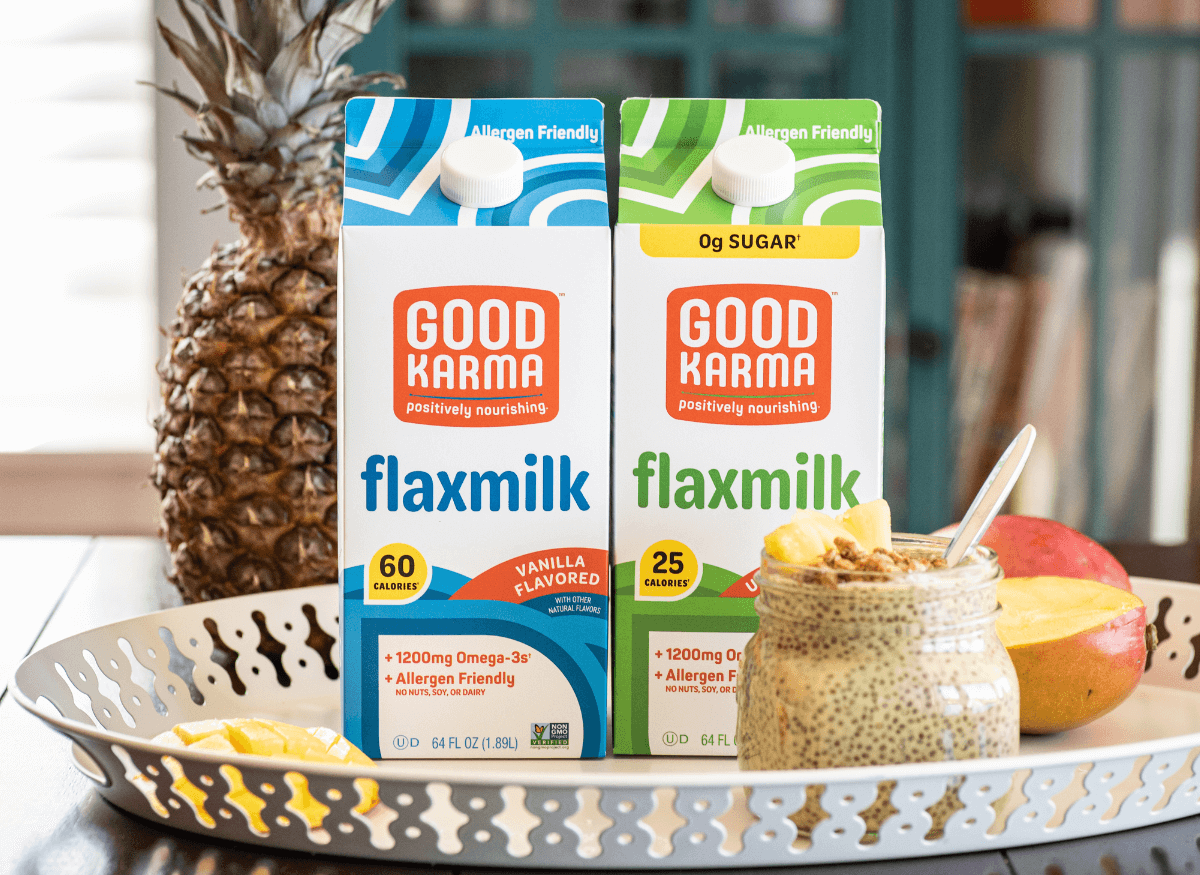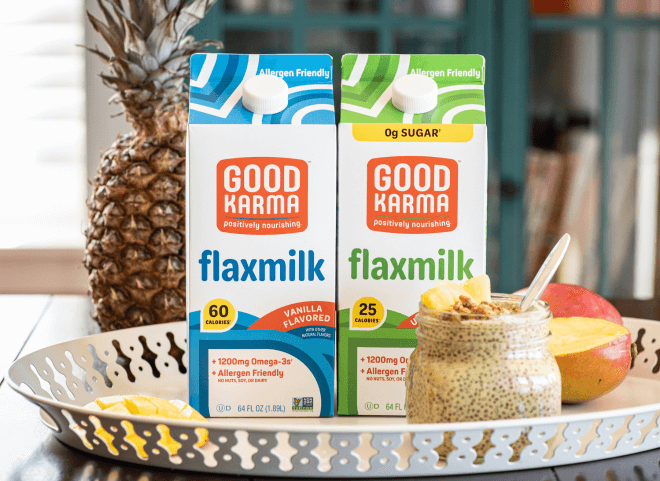 Allergens, Dietary Restrictions, Certifications
Where can I find out about your allergen control policy and procedures?
Please see Allergens page for more information.
Are your products Gluten-Free?
Yes, all of our products are Gluten-Free.
Are your products dairy-free?
Yes, all of our products are dairy-free.
All of our Good Karma products are free of any animal by-products, making them a great option for vegan diets.
Which allergens does "major-allergen-free" include?
Our products are free of dairy, eggs, fish, shellfish, tree nuts, peanuts, wheat, and soy.
Are you Non-GMO Certified?
Yes. All of our products are non-GMO certified by the Non-GMO Project.
Are your products Kosher? What certifier?
All of our products are Kosher certified by Orthodox Union (Circle U).
Why are your products considered OU-Dairy rather than OU-Parve?
The main reason for the OU-Dairy as opposed to OU-Parve certification is due to the production facilities in which our products are made. While we are dairy-free with respect to our formulations, our production facility does not have a Parve status in place with the Rabbinical Authority.
Ingredients
How are you able to make Good Karma Flaxmilk shelf-stable?
We use the same ingredients and process to produce our shelf-stable products as we use to produce our refrigerated flaxmilks. The difference is, this packaging is sealed to maintain a sterile barrier for a shelf-stable product.
Do you still carry your Good Karma Flax Delight products in Canada?
Unfortunately, our products are no longer available in Canada.
Do your cultures and probiotics live through the pasteurization process?
Our cultures and probiotics are added during fermentation which occurs after the pasteurization process. Therefore, they are unaffected by the pasteurization process.
Do your products get heated or pasteurized? What does this do to the quality/efficacy of the flax?
Just like other dairy and plant-based milks, our products go through a steam-infused UHT (ultra-high temperature) pasteurization process. The exposure to only a few seconds of 289 degree heat helps to preserve the taste and nutrition of our products while ensuring the safety and quality of the product. Both the quality and benefits of our flax oil are unharmed during the heating process.
What kind of Omegas are found in your Flaxmilk? DHA/EPA or ALA?
All of our Omega-3s are found exclusively from flax seeds, meaning our Omega source is exclusively ALA. Our products contain cold-pressed flax oil to deliver the highest quality of Omegas per serving.
What is sunflower lecithin? How is it sourced? From GMO inputs?
Sunflower lecithin is derived from the plant tissues of sunflowers and is non-GMO certified. Nutritionally, it is an emulsifier that gives our products their creamy texture.
What is xanthan gum/gellan gum? How is it sourced? Are these ingredients vegan?
Both xanthan gum and gellan gum are used to stabilize the product and provide a smooth and creamy texture. Both are vegan friendly, non-GMO certified, and not produced with any animal byproducts.
What types of sweetener do you use?
We use certified non-GMO cane sugar to sweeten most of our products. Our Unsweetened varieties contain no added sugars.
How much Calcium do your products contain per serving?
Each serving of Good Karma products contains 30% of the FDA recommended daily value for Calcium.
Do your products contain Carrageenan?
No, there is no Carrageenan in any of our products.
Where do you source your flax from?
We source our flax from a variety of sources in North America, including US and Canadian farmers.
Which culture and probiotic strains do you use?
We have 7 strains of live and active cultures in our Probiotic Cultured Flaxmilk beverages. These strains are: Streptococcus thermophilus, Lactobacillus delbrueckii subsp bulgaricus, Lactobacillus delbrueckii subsp lactis, Lactobacillus acidophilus, Lactobacillus casei, Lactobacillus rhamnosus, Bifidobacterium lactis HN019. Our featured probiotic strain Dupont HOWARU® Bifido, known more commonly as Bifidobacterium lactis HN019™, is efficacious, stable and one of the most clinically studied probiotic strains available today.
What are probiotics? How do they work?
Probiotics are live microorganisms, or "friendly bacteria," similar to organisms that occur naturally in the digestive tract. These good bacteria support digestive and immune health, and have been linked to other emerging benefits.
Flax milk is a major-allergen-free, non-dairy milk alternative with a smooth and creamy texture and delicious taste. Since it is produced with high-quality cold-pressed flaxseed oil, all of our flax milk varieties also have 1200mg of Omega-3s per serving.
Packing and Freshness
Does Good Karma's shelf-stable Flaxmilk require refrigeration?
Our shelf-stable Flaxmillk is safe to store in your pantry at room temperature as long as its unopened. Once opened, keep refrigerated and enjoy within 7 days.
Is your packaging recyclable? How do I know if my community recycles it?
Yes, our packaging is all recyclable where facilities exist.
Is BPA in the liner of your cartons?
Our cartons are BPA-free.
How long will your products stay fresh after opening?
The recommended use within date is 7-10 days after opening when refrigerated. However, if our products are unopened and refrigerated properly, they will be fresh until the code date.
Can I heat the Flaxmilk without damaging the Omega-3s?
Yes. The flax oil in our flax milk is stable, so you will not have any problems with Omega-3 retention during reasonable heating.
Can I cook and bake with Good Karma products?
Yes, you can safely cook and bake with our Good Karma products. In most cases, you can substitute our flax milk for dairy milk in your favorite recipes. Please note that the probiotics in our Probiotic Cultured Flaxmilk Beverages are living organisms and as such will not survive through heat treatment.
Can I use Flaxmilk as a coffee creamer?
Absolutely! Although our flax milks were not specifically formulated to act as coffee creamers, they can be mixed with hot or cold beverages as desired.
Can Good Karma products be frozen?
Good Karma products can be safely frozen, however the process can alter their smooth and creamy consistency. Additionally, we would not recommend freezing them in their original packaging. Freezing can cause the products to expand and rupture the packaging.