Lavender Vanilla Latte
What's better than flowers for Mother's Day? How about a dreamy iced latte with floral notes? Our rich, creamy Good Karma Plantmilk Barista Blend froths beautifully hot or cold, making this delicately fragrant lavender vanilla latte both simple to prepare, and simply delightful. Recipe by @happyapplevegan.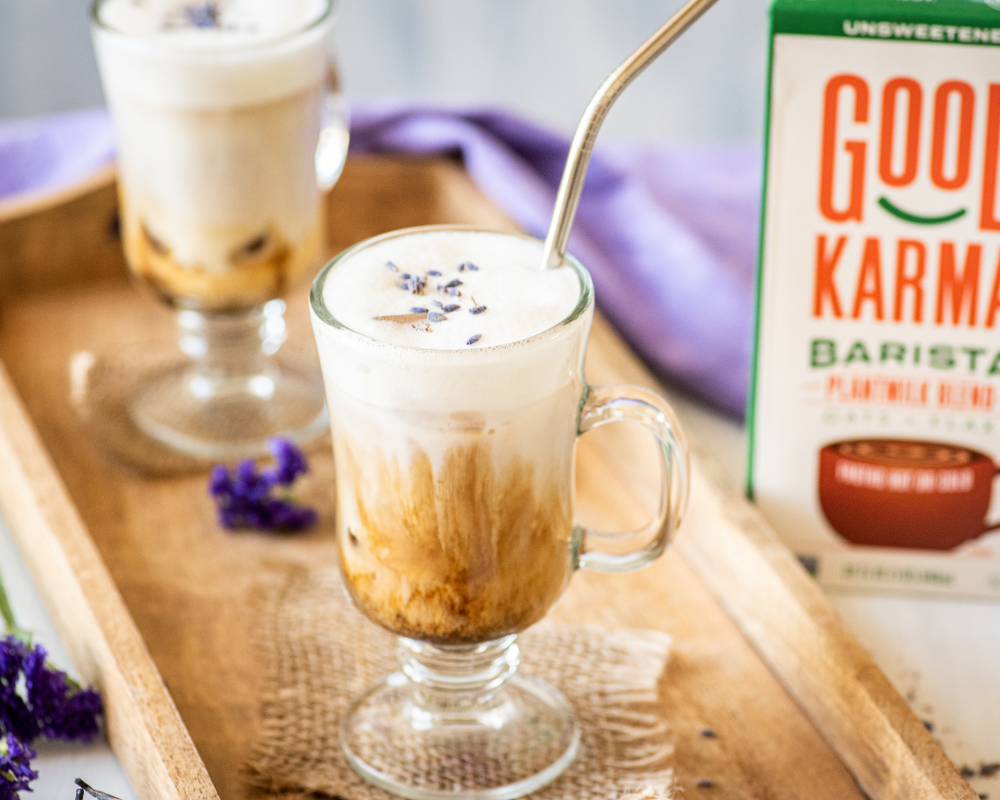 Ingredients
Latte

6 ounces strongly brewed coffee of choice
½ Cup Good Karma Barista Blend
1 Tablespoon lavender vanilla syrup (recipe below)



Simple lavender vanilla syrup

¼ Cup agave or monkfruit sugar

¼ Cup boiled water

½ Teaspoon vanilla extract

1 Tablespoon dried lavender buds
Directions
Latte
For a hot latte, warm the milk in a small saucepan or in the microwave. Once warmed, use a frother or whisk until foamy. For iced, lightly froth chilled plantmilk.

Pour coffee into your mug or a glass filled generously with ice and stir in the tablespoon of syrup. Gently pour milk over the coffee. For hot drinks, spoon any remaining foam on top. Garnish with lavender buds if desired.
Lavender Syrup
Add agave or monkfruit and lavender buds to freshly boiled water in a small saucepan and stir until sweetener is dissolved. Cover and let steep for at least one hour. Strain through a cheesecloth or fine mesh sieve. Store in the refrigerator for up to two weeks until ready to use.
GOOD KARMA RECIPES IN YOUR BOX
Bring GOOD KARMA to your kitchen (and your inbox) with our latest recipes.