Iced Date Caramel Latte
From the silky sauce to the creamy froth, our new oat milk Barista Blend is the key to this dreamy date caramel latte! Recipe by @happyapplevegan.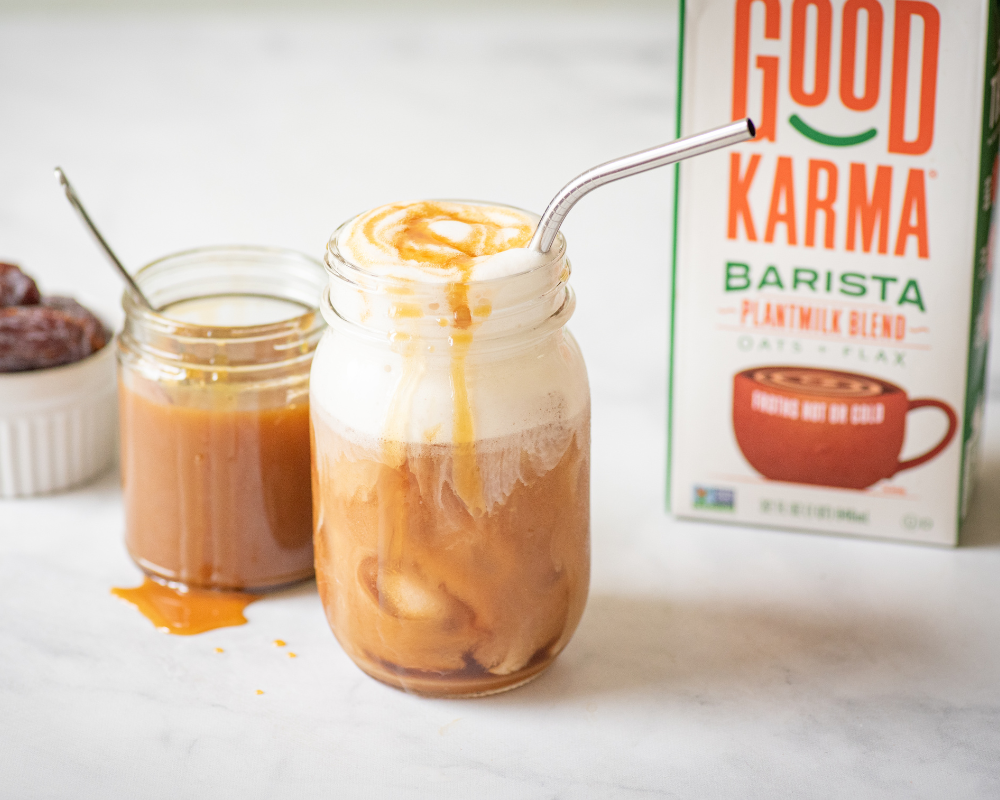 Ingredients
Date Caramel Latte

1 Cup strong brewed coffee, chilled

2 Tablespoons date caramel sauce, or to taste (see recipe below) 

Ground cinnamon and additional caramel sauce to serve, optional




Date Caramel Sauce

1 Cup pitted Medjool dates, soaked ten minutes in warm water and drained* 

1  Cup any Good Karma Plantmilk, warmed

¼ Teaspoon vanilla extract

Pinch sea salt, optional 

Hot water to thin, as needed
Directions
Date Caramel Latte
If serving lattes hot, pour freshly brewed coffee into mugs. For iced lattes, divide chilled coffee into two glasses with ice.

Stir 2 Tablespoons (or to taste) caramel sauce into coffee. Froth Good Karma Barista Blend until thick and foamy, warmed in a saucepan for hot lattes, chilled in a narrow jar for iced. Pour over the coffee caramel mixture. Gently stir, top as desired, and enjoy!
Date Caramel Sauce
To prepare the sauce: In a high-speed blender or food processor, add all the ingredients and blend at medium speed. Use the tamper tool of the blender to push down the dates onto the blade and help the blender turns the date into a sticky caramel paste.

Add lukewarm water if needed to thin out the spread to your desired consistency. The more you add, the easier it is to blend. Keep adjusting based on your preferences. Store for up to 3 weeks in a sealed mason jar in the fridge.

*If your dates are moist and plump, feel free to omit the soaking step
GOOD KARMA RECIPES IN YOUR BOX
Bring GOOD KARMA to your kitchen (and your inbox) with our latest recipes.