Vegan Peach & Blackberry Clafoutis
Delicately sweet, fruity, and light, this easy plant-based clafoutis is like a delectable cross between an oven pancake and a flan. We love the complementing contrast of peaches and blackberries, but feel free to swap in any of your favorite summer fruits in this delicious breakfast-or-dessert dish! Recipe by @happyapplevegan.
Servings
8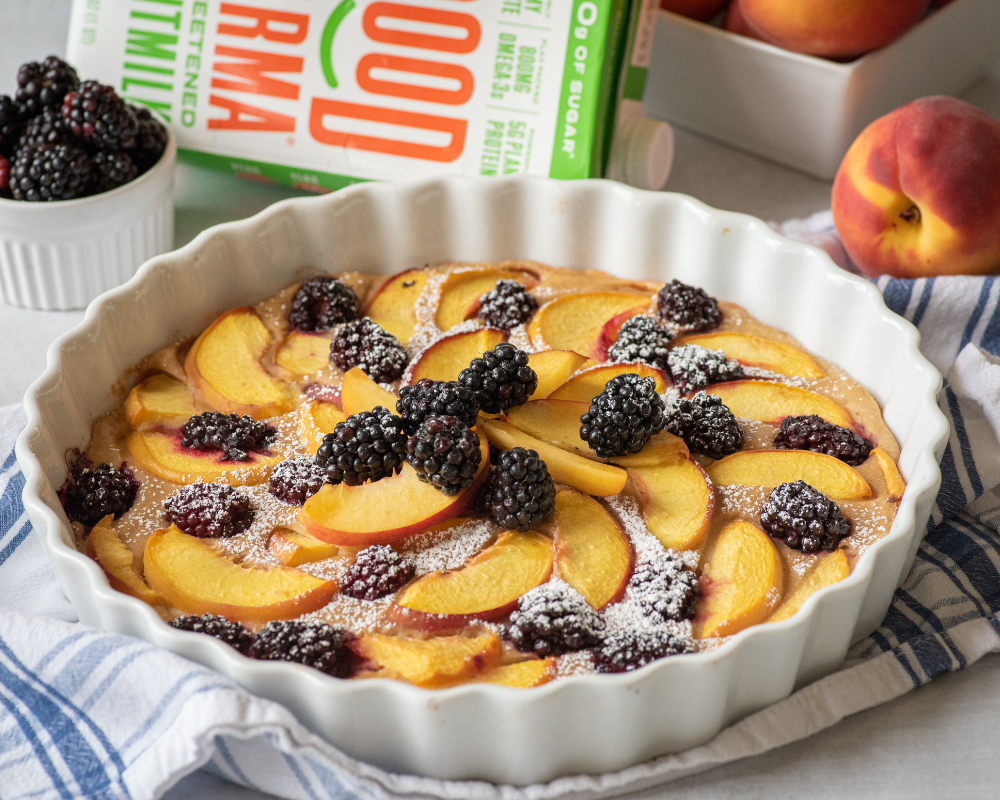 Ingredients
12 ounce silken tofu

¼ Cup maple syrup

½ Cup Good Karma Unsweetened Plantmilk

1 cup all-purpose flour, white whole wheat, or gluten-free flour

2 tsp. baking powder

1 Teaspoon vanilla extract

¼ Cup almond flour

1 tsp. almond extract 

2-3 Tablespoons olive oil (to grease your pan/dish)

2 cups sliced peaches

1 Cup fresh blackberries

Extra fruit for garnish, optional
Directions
Preheat the oven to 400°F . Coat a 9 inch tart pan, cake pan, or cast iron skillet with the oil and set aside.

In a blender, combine all ingredients through the  extract and blend until incorporated, 2-3 minutes. Let sit for 5 or so minutes while you prepare the fruit.

Transfer the batter into the greased pan and place the fruit evenly throughout.

Bake for 30 minutes until becoming firm (and before the edges burn). Let cool in the pan for at least 10 minutes before running a knife along the edges. If desired, sprinkle with powdered sugar and additional fruit to serve.
GOOD KARMA RECIPES IN YOUR BOX
Bring GOOD KARMA to your kitchen (and your inbox) with our latest recipes.