Apple and Kale Stuffing
Stuffing doesn't need to leave you feeling stuffed! With this recipe, you'll feel energized and satisfied instead. Good Karma Unsweetened Plantmilk swaps in for more than half the usual stock to add a flavorful creaminess that beautifully complements crisp, tart apples and power-packed kale in our version of the signature side. Recipe by: Wendy McMillan

Servings
12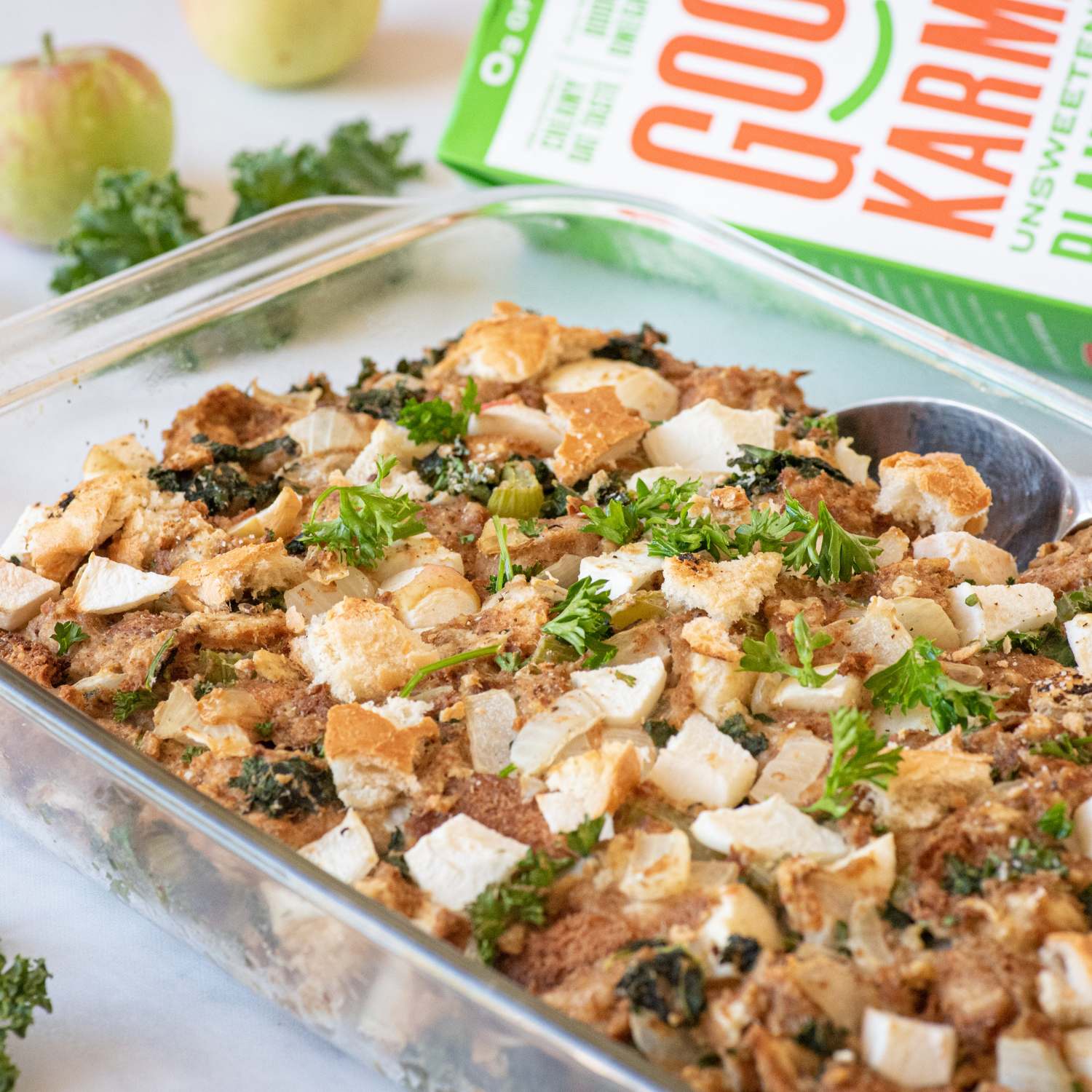 Ingredients
1 loaf crusty bread of choice (sourdough, whole grain, baguette), torn into pieces


1 bag (12 ounces) unseasoned cubed stuffing


2 c vegetable broth


1-2 tbsp olive oil


1 medium white or yellow onion, diced


2 sticks celery, finely chopped


1 bunch kale, stems removed and leaves torn


2 crisp tart apples such as Granny Smith, peeled and diced


⅓ c chopped fresh parsley


1 tbsp fresh chopped sage


Sea salt and ground pepper to taste

Directions
Preheat oven to 350° and prepare a baking dish with a light coating of cooking spray. Spread out the torn bread from the loaf on a parchment-lined baking sheet and toast until lightly browned, 10 to 15 minutes.


In a large saucepan or skillet, warm olive oil over medium-high heat. Add the onion and celery pieces and cook until softened, about 6-8 minutes.


Add the apple, kale, and vegetable broth to the pan. Cook, stirring often, until the apple is tender, about 6 minutes. Add Good Karma Plantmilk, stirring, just long enough to warm through, about another 2 minutes.


Combine all the bread cubes (prepared and packaged) in a bowl with parsley and sage. Pour apple mixture over cubes and stir to combine and evenly moisten, adding additional milk if needed.


Spread stuffing evenly into the prepared baking dish. Bake 30 minutes, or until browned and crisp on top.

GOOD KARMA RECIPES IN YOUR BOX
Bring GOOD KARMA to your kitchen (and your inbox) with our latest recipes.