Vegan Strawberry Shortcake
Bursting with pure flavor and freshness, this simple-to-prepare dessert sings of summer. Our Good Karma Vanilla Flaxmilk with protein lends the perfect, delicate sweetness and a hint of vanilla to both the tender shortcake biscuits and the delectable cashew cream filling. Together, both complement without overpowering, letting the luscious berries shine. Recipe by @happyapplevegan.
Servings
6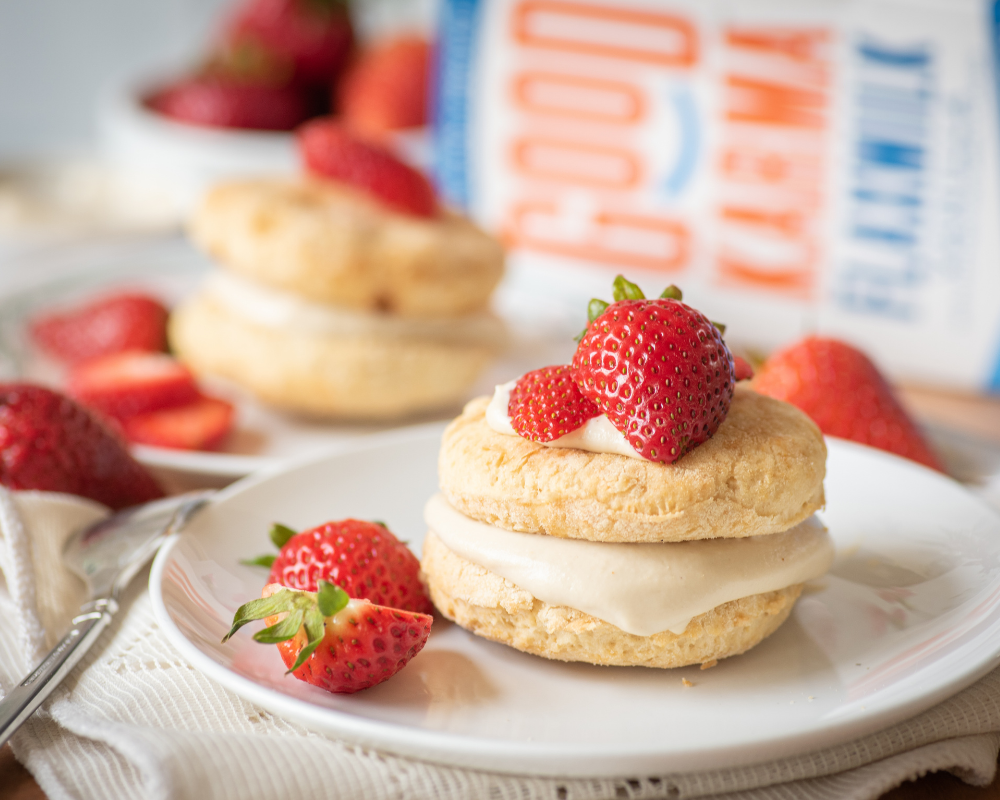 Ingredients
For the shortcakes

1 Cup Good Karma Vanilla Flaxmilk +Protein

1 Tablespoon apple cider vinegar

2 Cups white whole wheat, all-purpose, or gluten-free flour blend

1 Tablespoon cornstarch

1 Tablespoon baking powder

Pinch salt

¼ Cup monkfruit or other granulated sugar (optional) 
⅓ Cup extra-virgin olive oil 



Vanilla Cashew Cream

1 cup raw cashews

⅓ cup Good Karma Vanilla Flaxmilk + protein 

½ Teaspoon vanilla extract

pinch sea salt

1 teaspoon tapioca starch
Directions
Shortcakes
Preheat the oven to 400ºF. Line a baking sheet with parchment paper or silpat and set aside.

In a measuring cup, combine the Good Karma Vanilla Flaxmilk with protein and the tablespoon apple cider vinegar. Let rest while you prepare the dry ingredients

In a mixing bowl, whisk together the flour, cornstarch, baking powder, pinch salt, and sugar (if using).

Stir the olive oil into the milk mixture. Add to the dry ingredients and stir gently to form a dough. Be careful not to overmix!

Sprinkle a work surface lightly with flour and shape the dough into a large rectangle that is roughly ¾ -inch thick. Using a cutter or a glass with approximately a 2 ½ inch diameter, cut rounds, gathering the remaining dough to form a new rectangle as needed, yielding 12 biscuits (there may be some extra dough). Place biscuits on the prepared baking sheet.

Bake for 20-22 minutes, or until tops are becoming golden. Serve with fresh sliced strawberries and Vanilla Cashew Cream.
Vanilla Cashew Cream
Place cashews in a small saucepan of lightly boiled water and simmer 5-10 minutes. Drain and rinse.

Transfer cashews to a blender with the remaining ingredients and blend until smooth and creamy. Place in an airtight container and chill for at least 1 hour before serving.
GOOD KARMA RECIPES IN YOUR BOX
Bring GOOD KARMA to your kitchen (and your inbox) with our latest recipes.