Banana Nice Cream
Our Good Karma plant milks add even more wholesome, creamy sweetness to whipped frozen bananas for a delicious, guiltless summer treat everyone will love. Enjoy these simple flavor twists and get creative with your own! Recipe by: Wendy McMillan - @happyapplevegan
Servings
2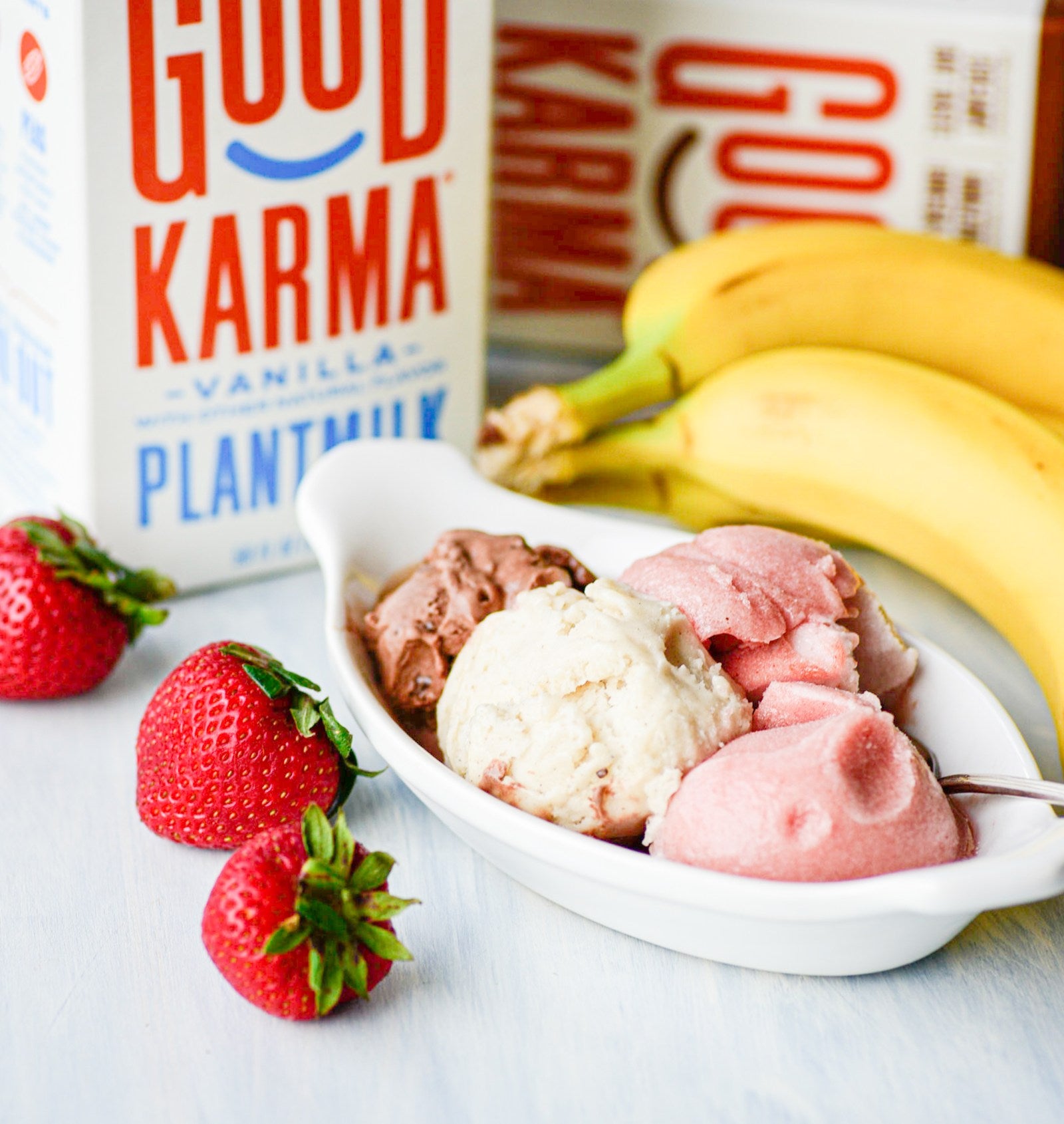 Ingredients
Nice cream basic blend

4 cups sliced very ripe banana, frozen at least two hours (overnight+ is better)

¼ -⅓ Cup Good Karma milk of choice

2-3 ice cubes, optional




Variations

Mint chip: add a small handful of spinach leaves (color and nutrition), a handful fresh mint leaves, a drop peppermint extract (optional), ⅓ cup chocolate mini chips or cacao beans

Chocolate peanut butter: Use Good Karma chocolate milk and add 2-3 Tablespoons cocoa powder plus 1 tablespoon nut butter or an allergy-friendly alternative

Chocolate cherry almond: Use Good Karma chocolate milk and 2-3 Tablespoons cocoa powder, 4-5french or frozen pitted dark cherries, and 2-3 drops almond extract

Pina colada: Use plain or vanilla Good Karma milk and add a sprinkling of shredded coconut and ½ cup frozen pineapple chunks
Directions
Add bananas, any addends of choice, and ⅓ Cup Good Karma milk to a high speed blender. Blend on high for 1-2 minutes, pausing to scrape the sides as needed. Add additional milk approximately 1-2 Tablespoons at a time to assist with blending until reaching a thick, creamy texture. Enjoy as is, or transfer to a loaf tin and place in the freezer to firm up, 1-2 hours. Enjoy!
GOOD KARMA RECIPES IN YOUR BOX
Bring GOOD KARMA to your kitchen (and your inbox) with our latest recipes.