Vegan Pumpkin Cupcakes
Sweet treats with a tricky twist--these delightfully spiced pumpkin cupcakes are secretly muffins in disguise! Our Good Karma Unsweetened Plant Milk melds like magic with rich pumpkin puree and simple, clean ingredients to yield tender, fluffy delights nutritious enough to be grab-and-go breakfast. Enjoy straight out of the oven, or add a festive swirl of frosting to transform them into a delectable dessert. Enjoy!
Recipe By: Wendy McMillan
Servings
18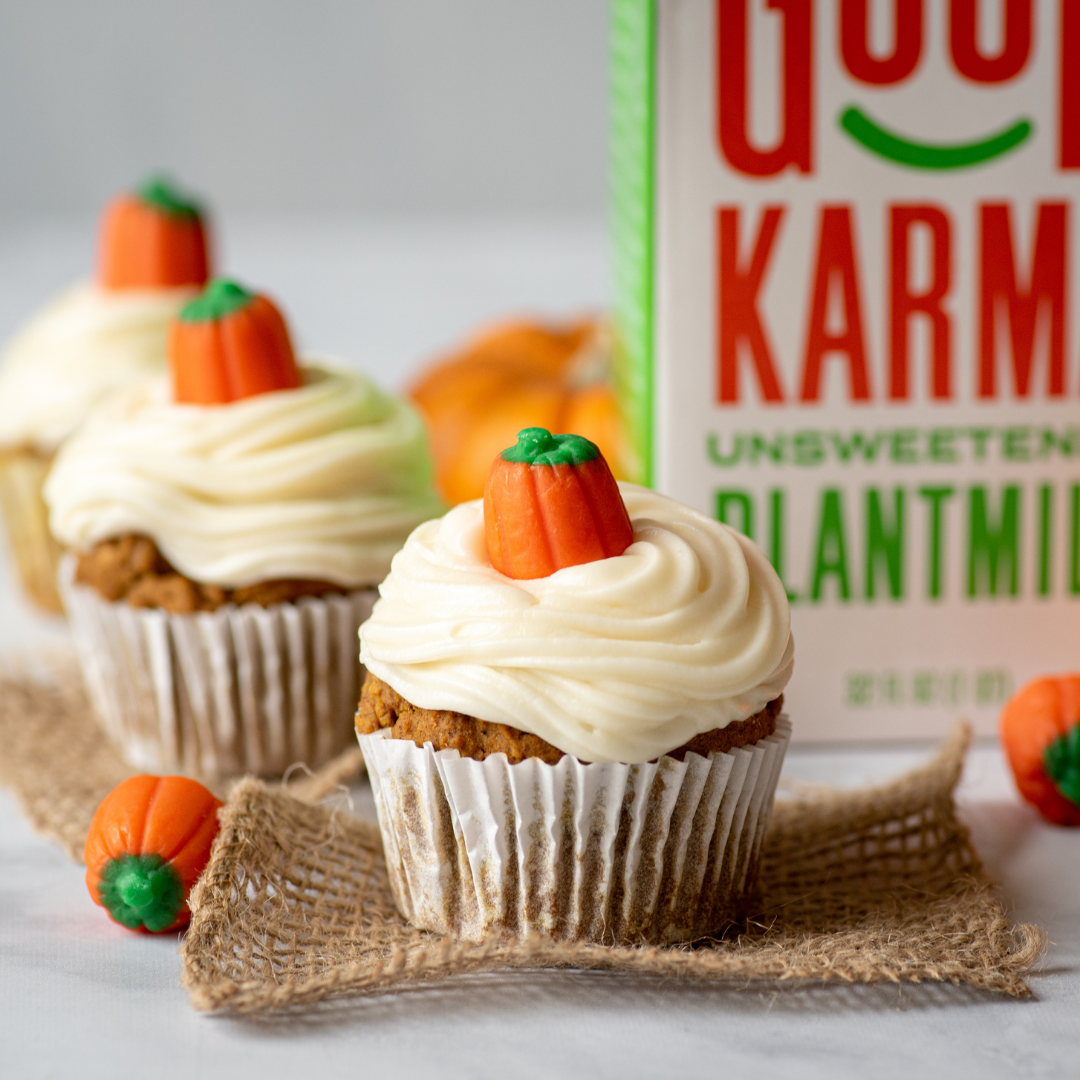 Ingredients
1 cup pumpkin puree, canned or homemade (not pumpkin pie filling)


½cup orange juice


⅓  cup pure maple syrup (or swap in coconut sugar, brown sugar, or other sweetener of choice) 


½ cup coconut oil, melted


¼ cup unsweetened applesauce


1 tablespoon apple cider vinegar


1 teaspoon pure vanilla extract


2 cups whole wheat pastry flour, white whole wheat flour, or gluten-free flour blend


1 tablespoon pumpkin pie spice


2 teaspoons baking powder


1 teaspoon baking soda


Pinch sea salt





Vegan maple buttercream frosting

1 cup vegan butter, softened


2 cups powdered sugar (more as needed)


¼ cup pure maple syrup


1 teaspoon vanilla extract

Directions
Preheat oven to 350 degrees F. Grease an 18-cup muffin tin(or 1 ½ standard pans)or line with cupcake liners, and set aside.


In a medium mixing bowl, whisk together the Good Karma Unsweetened Plantmilk, pumpkin puree, orange juice, vanilla, oil, applesauce, and vinegar.


In a large mixing bowl, combine remaining ingredients and stir very well. Pour wet into dry, and stir until just evenly mixed. Pour evenly into cupcake tins, filling each cup about two-thirds full.



Bake for 18-20 minutes, or until cupcakes have risen and are lightly golden.Let cool. Enjoy as is, sprinkled with powdered sugar, or frosted for a sweet pumpkin spiced treat!

Vegan maple buttercream frosting
In a large mixing bowl or stand mixer, add the vegan butter and mix the for a few minutes until creamy, then add 2 cups of powdered sugar and the syrup. Mix again until combined. Add more powdered sugar as needed, until reaching the desired consistency.

GOOD KARMA RECIPES IN YOUR BOX
Bring GOOD KARMA to your kitchen (and your inbox) with our latest recipes.