Vegan Fudge
Move over milk and cookies--not only is this scrumptious, plant-based fudge delightfully easy to make, the potential for variety is endless. Made with our Good Karma Plantmilk, protein-packed nut butter, and just a few other simple ingredients, this healthier-than-traditional,heavenly confection is nothing short of chocolate bliss. Recipe by: Wendy McMillan 
Servings
25 small squares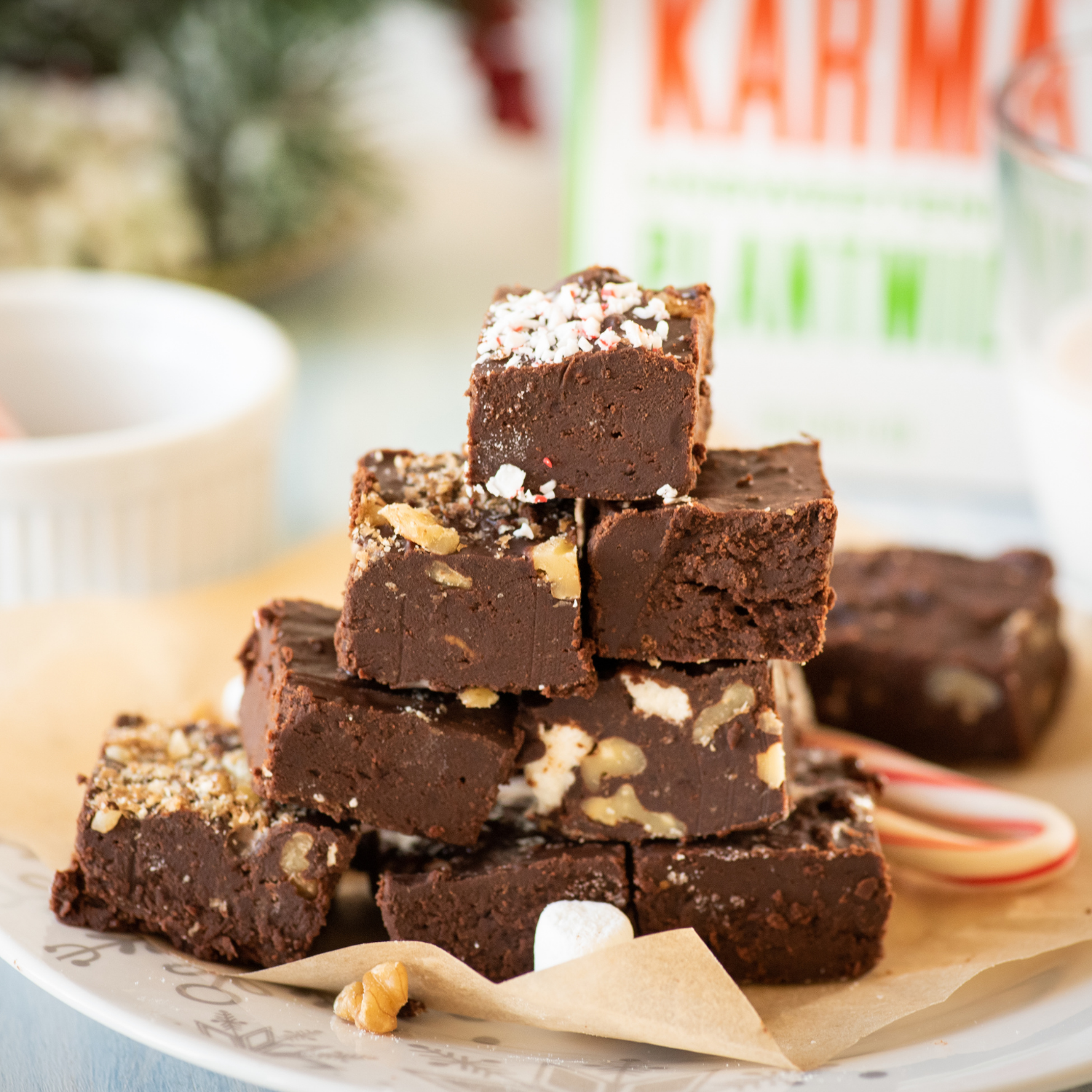 Ingredients
1 ½ Cups vegan semi-sweet or dark chocolate chips or chunks


½ Cup natural nut butter of choice (nuts or nuts only; you can also sub in sun butter or tahini for nut-free)


¼ Cup maple syrup or agave


¼ Cup unsweetened cocoa or cacao powder


1 Teaspoon vanilla extract


pinch sea salt





Optional addends (see below)

Nutty Crunch: ½ Cup chopped walnut, almonds, or a chopped nuts and raisin mix


Rocky Road: ⅓ Cup chopped walnuts, 1.3 Cup mini marshmallows, whole or halved


Peppermint: a few drops peppermint extract and/or approximately ⅓ Cup crushed candy canes


Peanut Butter: lightly swirl in ⅓ Cup creamy peanut butter

Directions
Line an 8-inch square baking pan or similar with parchment paper. Place the chocolate, Good Karma Plantmilk, nut butter, maple syrup or agave, and cocoa powder in a medium saucepan and warm over low heat, stirring often, until the mixture is melted and smooth. Stir in vanilla and addends of choice.




Pour the mixture into the prepared pan and smooth the top with a spatula. Refrigerate at least 4 hours to set.

Lift the fudge out of the pan using the parchment paper. Use a sharp knife to cut into squares of desired size to serve. Refrigerate or freeze in an airtight container to preserve freshness.

GOOD KARMA RECIPES IN YOUR BOX
Bring GOOD KARMA to your kitchen (and your inbox) with our latest recipes.