Maple Baked Donut Holes
Recipe By Elizabeth Swoish from Entirely Elizabeth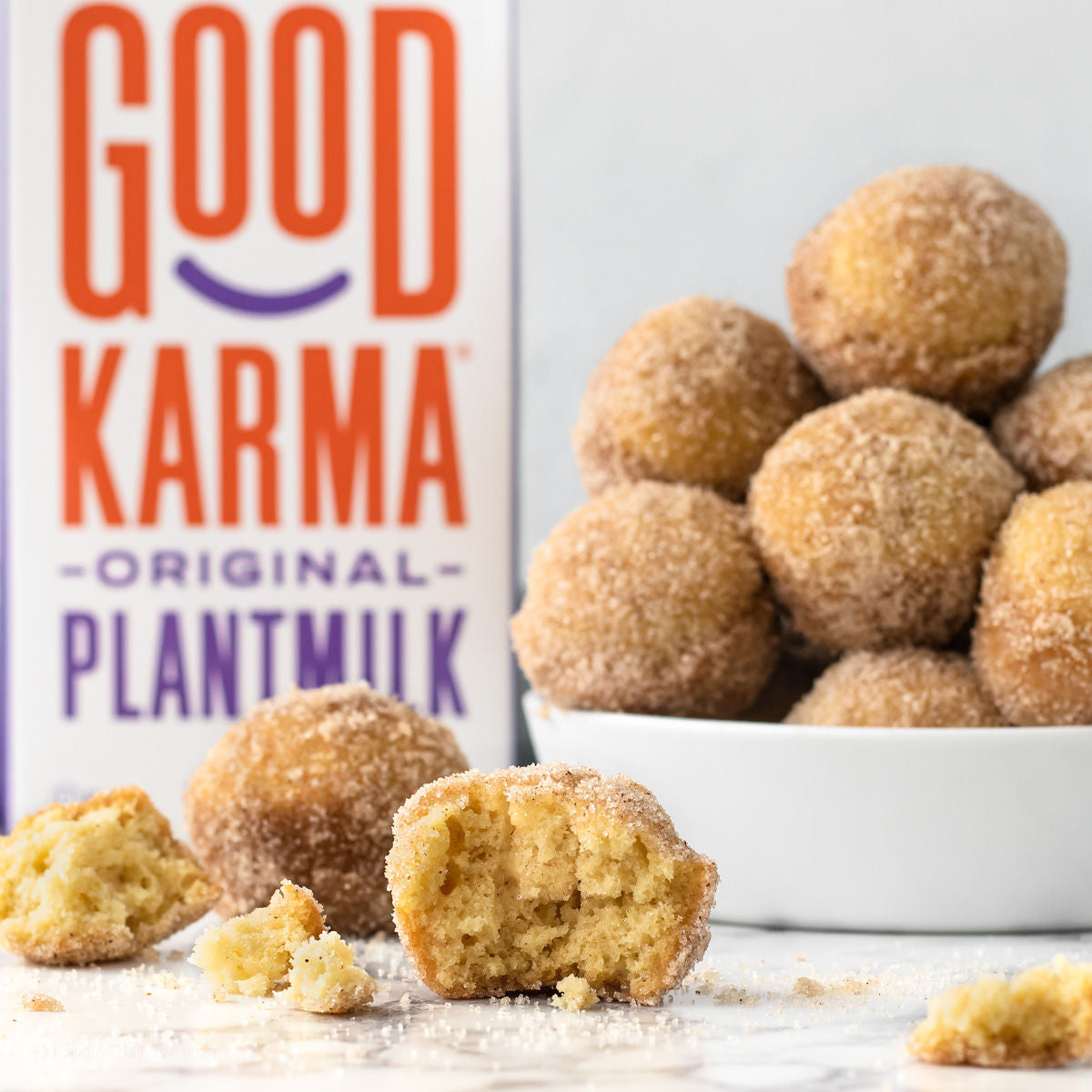 Ingredients
2 tablespoons Good Karma Plant-Based Sour Cream


2 tablespoons salted plant butter; melted and cooled to room temperature


¼ cup raw cane sugar


¼ cup maple syrup


½ teaspoon maple extract


¾ teaspoon baking powder


½ teaspoon baking soda


1 ¼ cup all-purpose flour





For the sugar coating

¼ cup melted salted plant butter


¼ cup raw cane sugar


½ teaspoon cinnamon

Directions
Preheat your oven to 350°F. Prepare your 24-cavity mini muffin pan by spraying it lightly with non-stick cooking spray.


In a medium sized bowl whisk together the plantmilk, sour cream, melted butter, sugar, maple syrup, maple extract, baking powder, and baking soda.


Add the flour and fold with a spatula just until it comes together (do not over mix).


Scoop a spoonful of batter into each cavity so they are 2/3 full.


Place them in the oven for 12-15 minutes or until fully baked.


Remove your baked donut holes from the muffin pan and allow them to fully cool on a cooling rack.


Set up an assembly line for coating your baked donut holes: one bowl with melted butter and one bowl with the sugar and cinnamon mixture.


Roll your baked donut holes in butter and then the sugar and cinnamon mixture. Continue until all are covered in the sugary goodness.

GOOD KARMA RECIPES IN YOUR BOX
Bring GOOD KARMA to your kitchen (and your inbox) with our latest recipes.