Garlic and Rosemary Cauliflower Potato Mash
Who can resist a velvety, savory mash during the holidays? With Good Karma Unsweetened Oatmilk or Flaxmilk, you can lighten up this must-have side while enhancing flavor and nutrients! Paired with fiber-rich potatoes, savory roasted garlic and rosemary, creamy cauliflower cuts back on starchiness while adding even more fiber, plus vitamins C and K to this easy, deliciously dairy-free dish. Recipe by: Wendy McMillan
Servings
8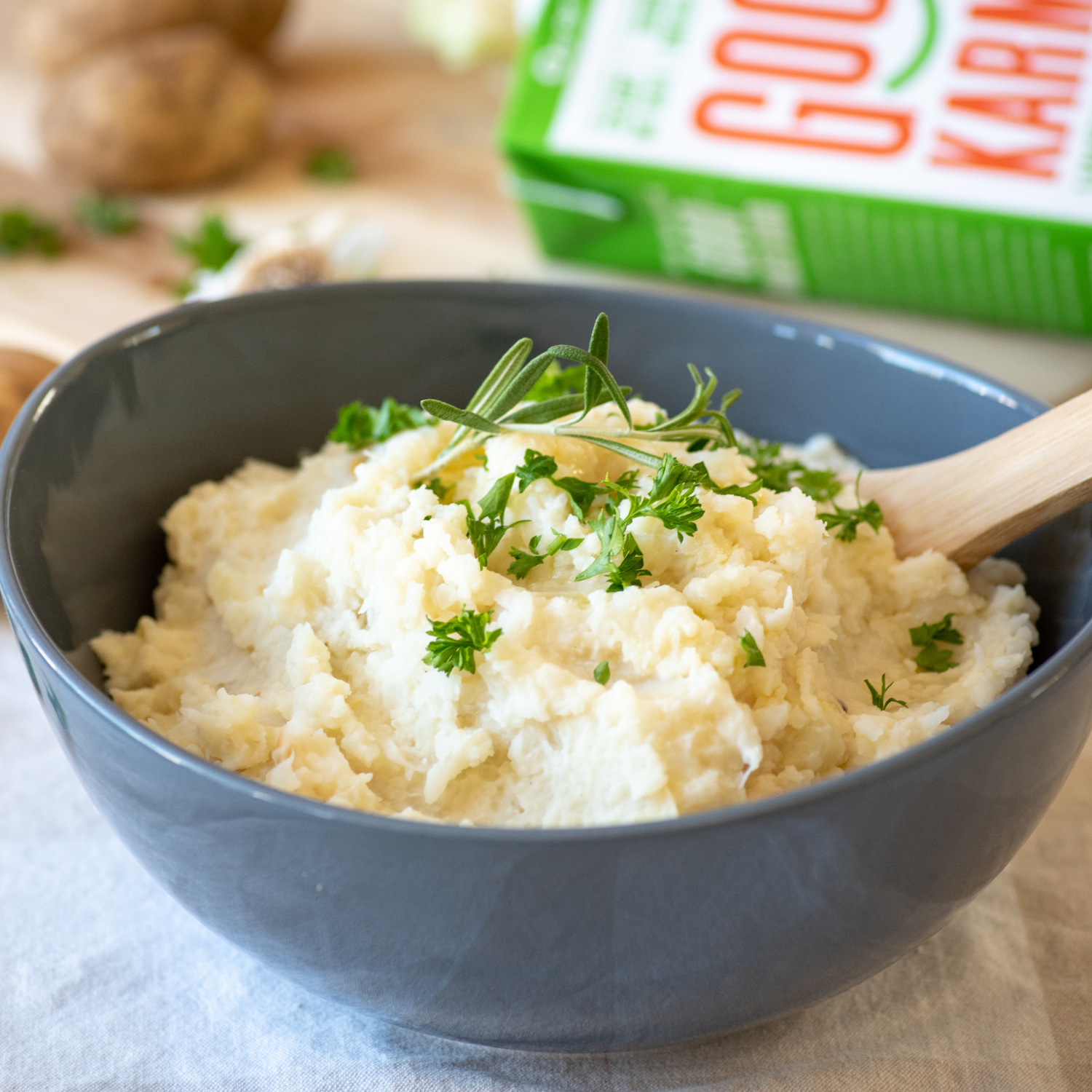 Ingredients
1 head garlic, whole and unpeeled


1-2 tbsp olive oil


2 pounds russet or gold potatoes, scrubbed (peeling optional) and cubed


1 large head cauliflower chopped into florets (approximately 4 cups )


1-2 sprigs rosemary


Sea salt and fresh ground pepper to taste


Fresh parsley for serving, optional

Directions
Remove the outer layer of papery skin of the whole garlic head, leaving the head itself intact.


Using a paring knife, slice approximately ¼ to ½ inch off the tops of the garlic cloves so they are all exposed. Place the garlic heads on a piece of aluminum foil. Drizzle the olive oil over the garlic heads,salt lightly, and wrap the foil lightly around the garlic.

Bake at 400°F for 30 to 40 minutes, or until the cloves feel soft to the touch and are beginning to brown. Remove from the oven and let cool.


While the garlic is roasting, peel and chop the potatoes into 1-inch chunks and the cauliflower into florets. Place in a medium saucepan with the rosemary and a sprinkle of salt and cover with water. 


Bring the pot to a boil, reduce to a simmer, and simmer potatoes until tender when pierced with a fork, about 15 minutes.



Drain the potato mixture and transfer to a bowl or return to the stovetop over low heat.
Squeeze the roasted garlic into the potatoes and begin mashing with a potato masher or a large fork. Stir in Good KarmaPlantmilk and 1 Tablespoon olive oil (optional) and continue mashing until reaching desired texture, stirring in extra milk as needed.

Season with salt and pepper to taste. Serve garnished with parsley if desired.

GOOD KARMA RECIPES IN YOUR BOX
Bring GOOD KARMA to your kitchen (and your inbox) with our latest recipes.