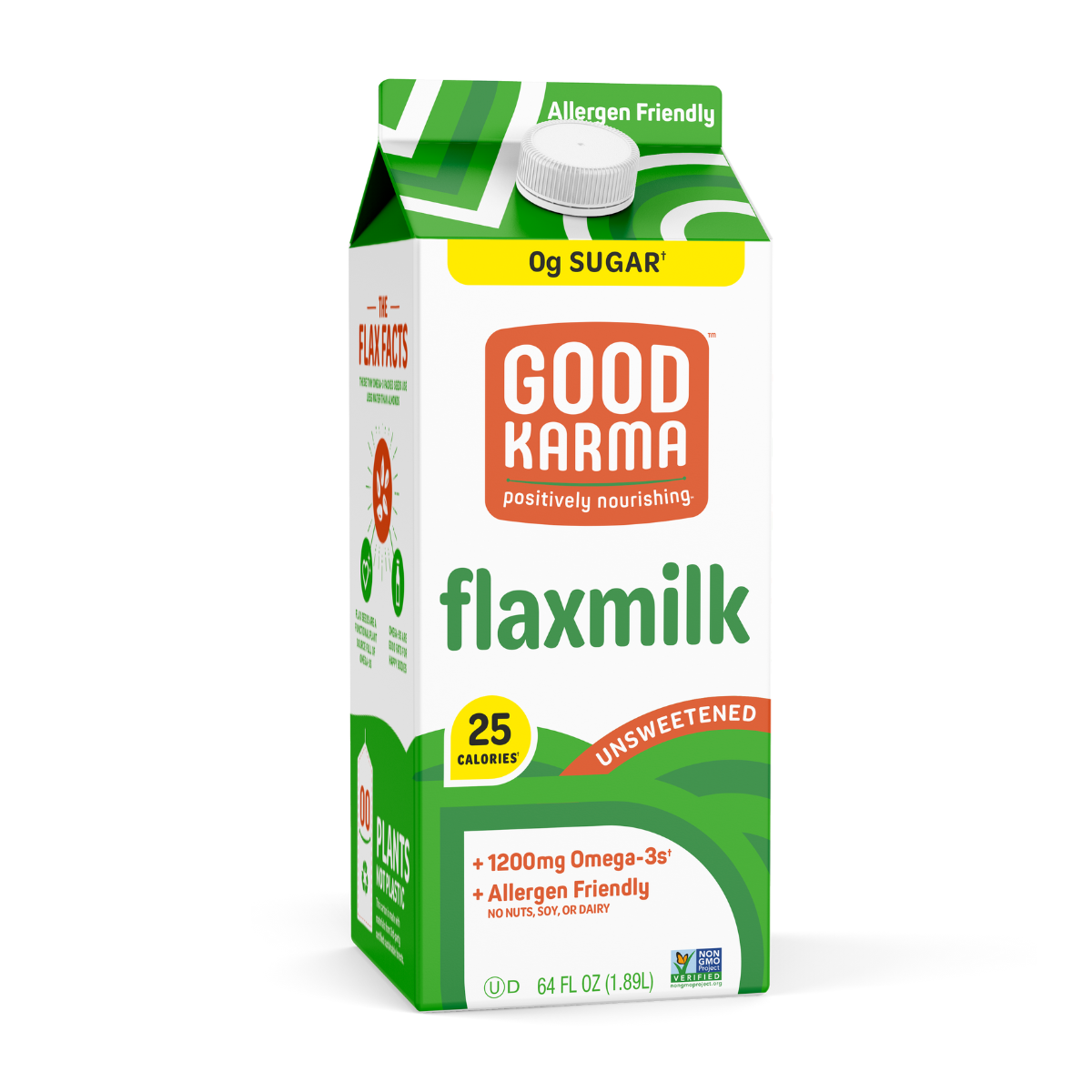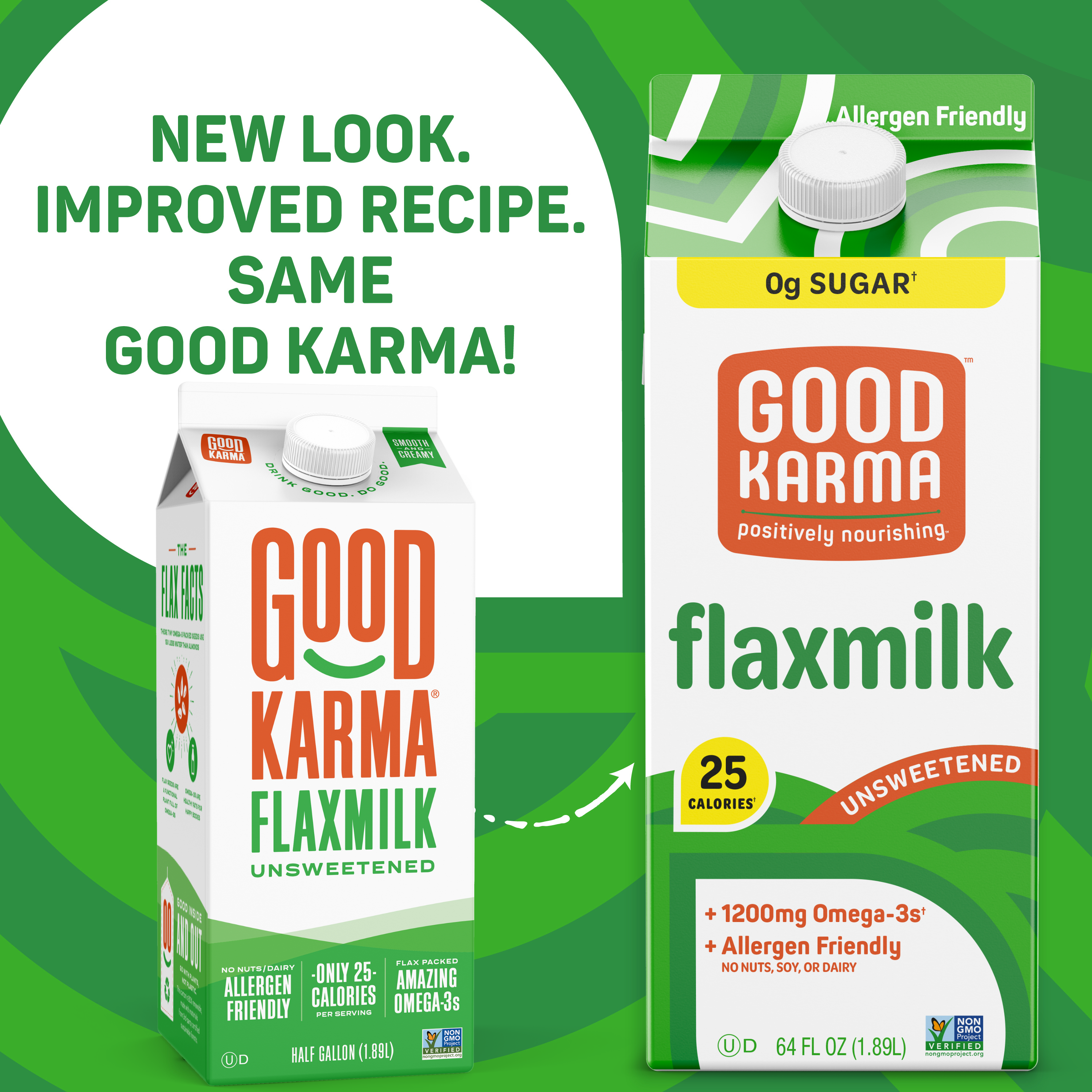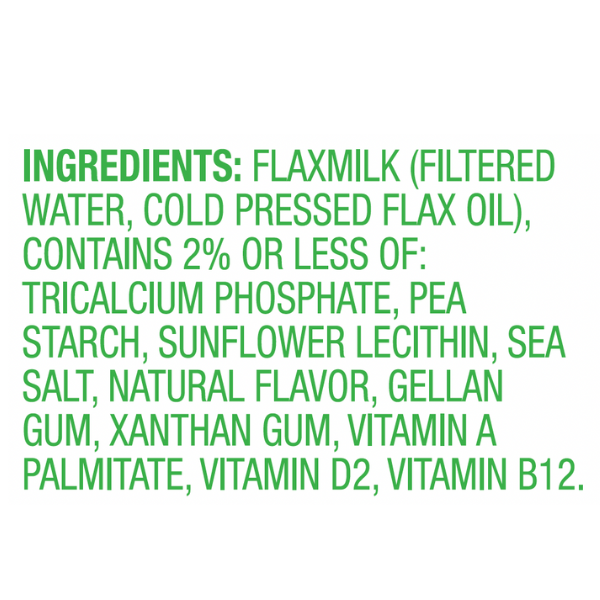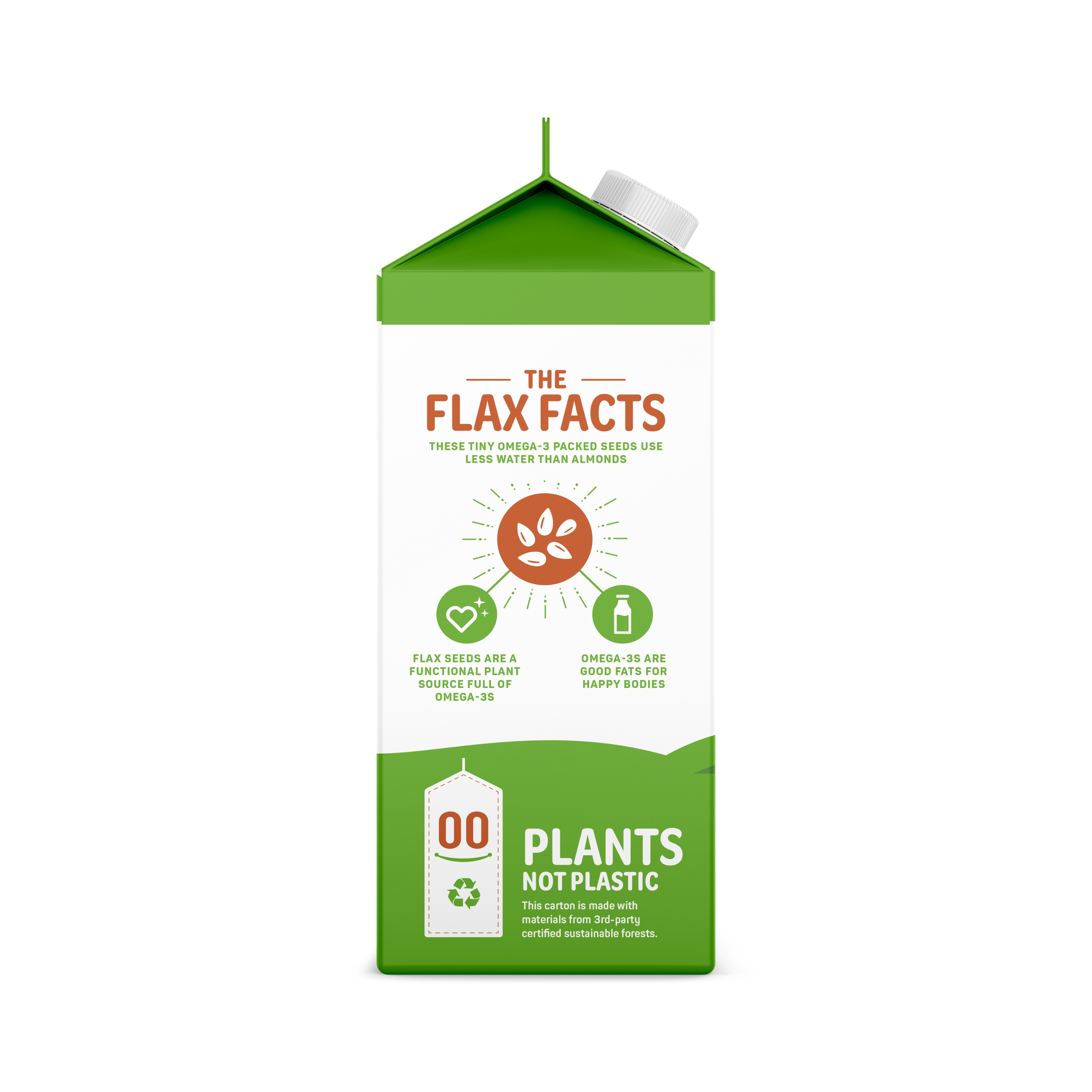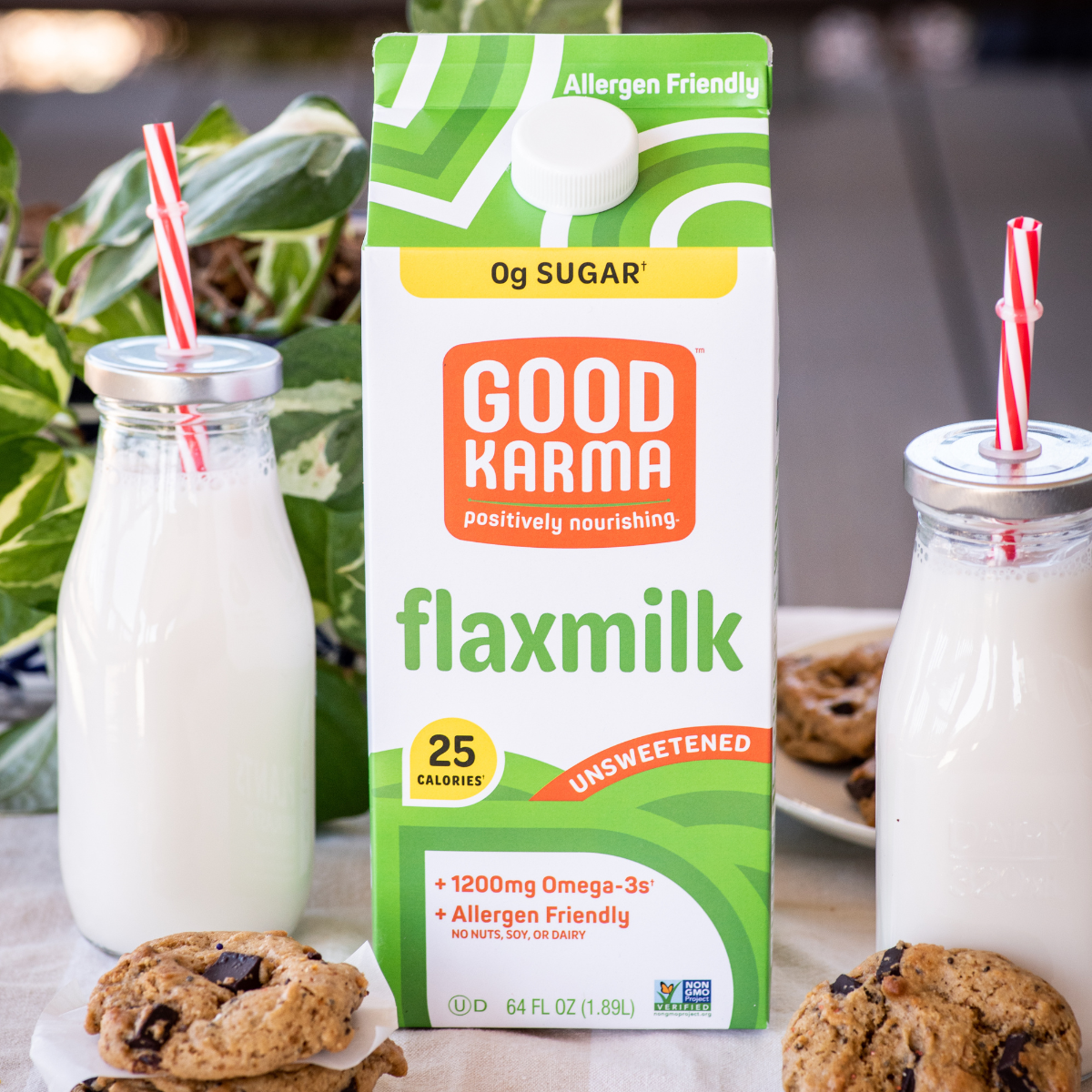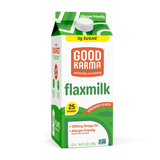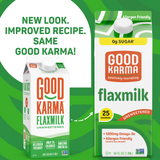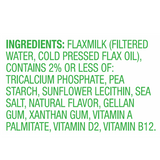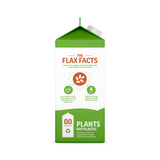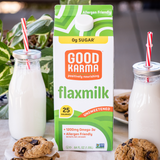 Unsweetened Flaxmilk
Refrigerated 64 oz
Good Karma Unsweetened Flax Milk is a clean, allergen friendly plant-based milk with no sugar added and only 25 calories per serving. It's friendly for your digestion and fits into nearly any diet, including keto. It's creamy texture tastes great chilled, warm, and on its own.
Highlights
A Better Plant Based Alternative: Powered by superfood flax 1200mg of vegan Omega-3s per serving and glyphosate-free.
Zero Grams of Sugar and only 25 Calories per Serving: Is keto and low carb friendly, while supporting vegan, vegetarian, dairy free, and plant based diets.
Allergy Friendly: Always made with NO nuts, dairy, soy, lactose, or gluten.
Creamy, Delicious and Versatile: Neutral taste doesn't overpower your sweet, savory or creamy recipes. Use as a dairy-free milk in recipes, coffee, cereal, smoothies, and more for Omega-3 goodness. Anywhere you use milk, you can use Good Karma Flax Milk.
Nutrition Facts
Nutrition
Serving Size 1 cup (240 mL) | 8 Per Container
Amount Per Serving: Calories 25
Total Fat 2.5g
% Daily Value*
Saturated Fat 0g

0

Polyunsaturated Fat 1.5g

&nbsp
Cholesterol 0mg 0%
Sodium
Dietary Fiber 0g

0%

Total Sugars 0g

&nbsp%

Includes 0g Added Sugars

0%
Protein 0g
Vitamin D 2.3mcg

10%

Calcium 280mg

20%

Vitamin A 140mcg

15%

Vitamin B12 1.4mcg

60%

Phosphorus 130mg

10%
Ingredients
FLAXMILK (FILTERED WATER, COLD PRESSED FLAX OIL), CONTAINS 2% OF LESS OF: PEA STARCH, TRICALCIUM PHOSPHATE, SUNFLOWER LECITHIN, SEA SALT, NATURAL FLAVOR, GELLAN GUM, XANTHAN GUM, VITAMIN A PALMITATE, VITAMIN D2, VITAMIN 12.
Read
The Reviews
100%
would recommend this product
Please bring it back!

I have to follow a low carbohydrate diet and have numerous food allergies. This is the ONLY milk substitute I can enjoy safely. Lately I only see the unsweetened protein variety being re-stocked at all of my supermarkets and this is very distressing to me. I cannot consume the protein added variety as it contains a known allergen- pea protein. Additionally, there is a huge caloric difference. The regular unsweetened only has 25 calories per serving and the protein variety has 70 calories. PLEASE restock the unsweetened without protein variety.

Love this stuff!

I use this in my cereal, coffee, baking, and pretty much anything that calls for milk. I can no longer find the plain unsweetened refrigerated version in stores, only the added pea protein version, which is thicker and I'm not a fan of. Are you still making the plain refrigerated version?

I love this product, but can no longer find it

The refrigerated version of Good Karma Flax milk is so smooth, delicious, and versatile. I've been drinking it for years and started buying two and adding a vanilla bean to one for sweeter meals like cereal and using the other for savory dishes. Now, I can only find the protein version in stores, which isn't very pleasant tasting or versatile. I look forward to having this back on the shelves soon.

MM

Unsweetened Flaxseed Milk-refrigerated

I love this milk in the 64 oz. size in the refrigerated section so much. Many of the stores that I use to see this milk in the refrigerated section are only carrying it in the shelf location in a 32 oz. carton (not refrigerated). I don't know what has to be added to make it (non-refrigerated) in the self carton, but it is not agreeing with me at all. It's causing the same lower bowel issues as dairy milk is doing. I'm so disappointed. Please do something to get it back in the grocery stores in Maryland.

The only milk I buy

Creamy taste. Delicious. I drink it plain, pour on cereal, blend with protein powder, and add to recipes.

I was introduced to your flax milk in WA; recently moved to CO and happy to find the unsweetened 64 oz. carton (without added pea protein). I buy 2 cartons at a time.

I support your good intentions to offer a superior dairy alternative that uses less water than almond milk and contains omega-3s. Hurray for flax seeds!
Reviews Loaded
Reviews Added