Gingerbread Pancakes and Waffles
Fill your home this holiday season with the cozy aromas of gingerbread spices, for breakfast! These scrumptious pancakes kick up breakfast, brunch, or even dessert with festive flair. If waffles are more your style, go ahead and use this easy vegan batter in your waffle maker as is, or follow the slight, simple modifications below for a more traditional texture. Recipe by: @happyapplevegan.
Servings
6-8 pancakes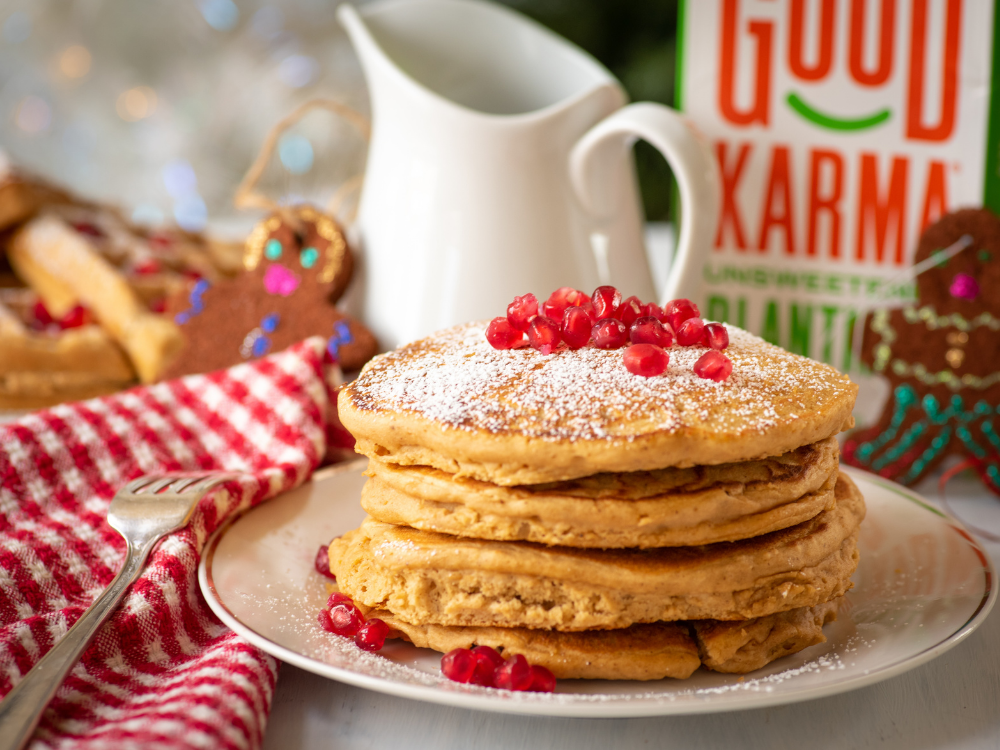 Ingredients
1 ½ Cups white whole wheat or all purpose flour


2 Teaspoons Baking Powder


2 Teaspoons sugar, optional


2 ½Teaspoons ground ginger


1 ½Teaspoons ground cinnamon


¼ Teaspoon ground nutmeg


¼ Teaspoon ground cloves


⅛ teaspoon salt


¼ Cup applesauce


¼ Cup molasses


1 Tablespoon olive or canola oil (may omit for oil-free)


Cooking spray


Toppings of choice, to serve

Directions
For Pancakes
In a mixing bowl, whisk flour, sugar if using, spices and salt. Make a well in the center and add Good Karma Flaxmilk, applesauce, molasses, and oil. Lightly mix with a spoon, then stir into dry ingredients to form a batter. Let sit a few minutes while warming up a large pan or griddle coated with cooking spray over medium heat


When the pan is warmed, scoop approximately ¼ -⅓cup  onto the pan. Cook until bubbles begin to form, then flip and cook until golden brown, about 1-2 minutes per side. Thin out batter as needed with additional plant milk. Repeat with remaining batter, re-coating the pan with cooking spray as you go. Keep warm on a cookie sheet in a 200 F oven if desired, and serve with desired toppings. Enjoy!

For Waffles
Use the batter as shown above, or, for a more traditional outer-crispness, increase baking powder to 1 Tablespoon, decrease Flaxmilk to 1 ¼ cups, and include 1-2 Tablespoons sugar and 2 Tablespoons oil.


Preheat the waffle maker according to the manufacturer's directions. When heated, scoop ⅓ to ½ cup of batter depending on the size of your waffle maker onto the iron. Cover and cook according to appliance directions. Gently remove when ready with a fork.

GOOD KARMA RECIPES IN YOUR BOX
Bring GOOD KARMA to your kitchen (and your inbox) with our latest recipes.